In October of 2000 downtown Springfield, Vermont faced the grim statistic of having 40% of its stores empty. With the closing of yet another store on Main Street, Nina Jamison with help from Alison Wallace decided to take a cue from what was working in other Vermont towns and use the excitement that art creates to improve morale and perception. The vision of a revitalized downtown using art as a catalyst for change had its beginning in this first simple idea – Gallery at the VAULT is the result.
Nina Jamison, a folk artist and Springfield resident along with Alison Wallace, a Reading artist and gallery owner, proceeded to install local artists work in the vacant windows. The project was named "Windows on the Arts".
The response from both the artists and the town was encouraging. Three months into the project Springfield Savings & Loan was contacted in order to gain additional financial support and to further expand and install even more art in empty windows. Up to this point Alison and Nina, both collectors, (pack-rats) of junktique, had used their respective basements as a source of decorative backgrounds and props. Morale was beginning to improve and an atmosphere more conducive to economic recovery had been initiated.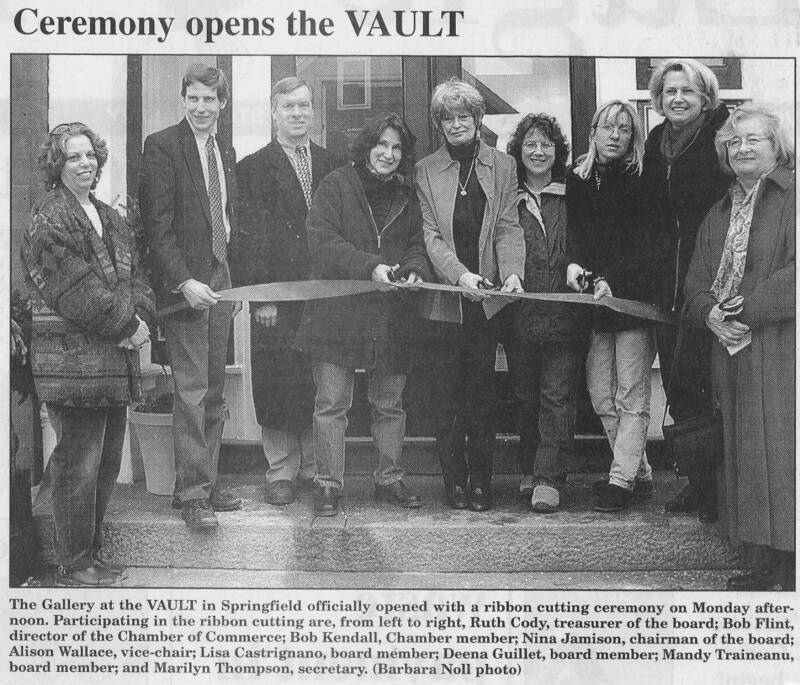 The "Window on the Arts"  was a small project with long range goals. The success of that project gave Nina Jamison and Alison Wallace the confidence to start another, more ambitious project … Gallery at the VAULT.
The first board meeting of Gallery at the VAULT was in May of 2001 at the Miller Art Center. By July, 2001 restoration of the 1907 Victorian bank was almost complete thanks to the efforts of hard working volunteers, the building owner Steve Greene and supporters and donors in the community.
On December 15, 2001 Gallery at the VAULT (Visual Art Using Local Talent) officially opened with 35 artists and crafts people; six years later the Gallery represents over 100.
History of the Bank Block Building

In 1907 construction was started on the "Savings Bank Block." The building was completed in 1908. 
The Springfield Savings Bank moved to the North corner, and The First National Bank moved to the South corner. Seventy years after the cornerstone was laid for the Savings Bank Block, the bank said goodbye to its long time home. Grand Opening ceremonies for the Vermont National Bank Mall, located where an old A&P used to stand, took place May 21, 1977.