Open Wednesday to Saturday 11-5 & Friday 11-7
Visit our Vermont State Craft Center and marketplace for 125 artists in a 1907 bank with a walk-in vault. Located in Springfield's historic downtown, next to Copper Fox Restaurant and steps from the Comtu Falls.
Stop Motion Animation with Elm Hill Students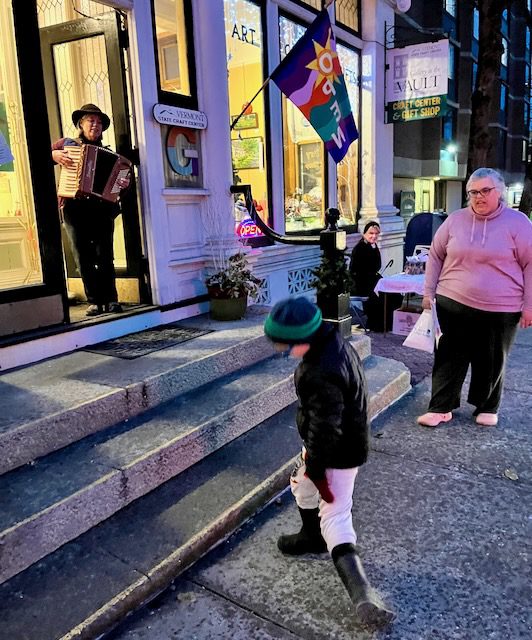 What a fun town wide celebration to start the holiday season! Melissa Post's accordion playing inspired this child to break into dance. Cynthia Porter passed out Let It Snow pencils and kids are invited to bring their snow drawings to Vault by mid-January.
Stop in to see our selection of creative gifts for children: animal puppets, books, puzzles, snow catchers, little cars, wooden rattles, knitted hats, and magic wands.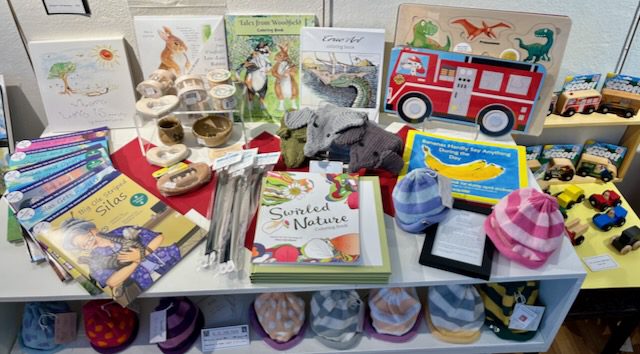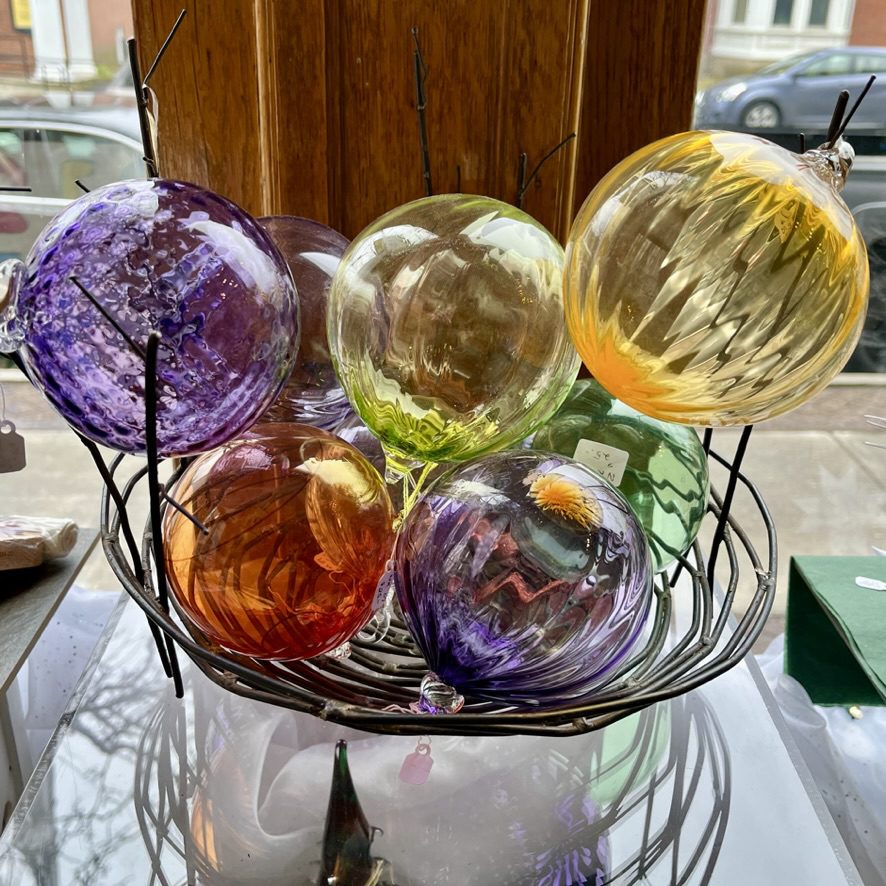 Choose one of these magical glass balls made by Nick Kekic to hang in a window.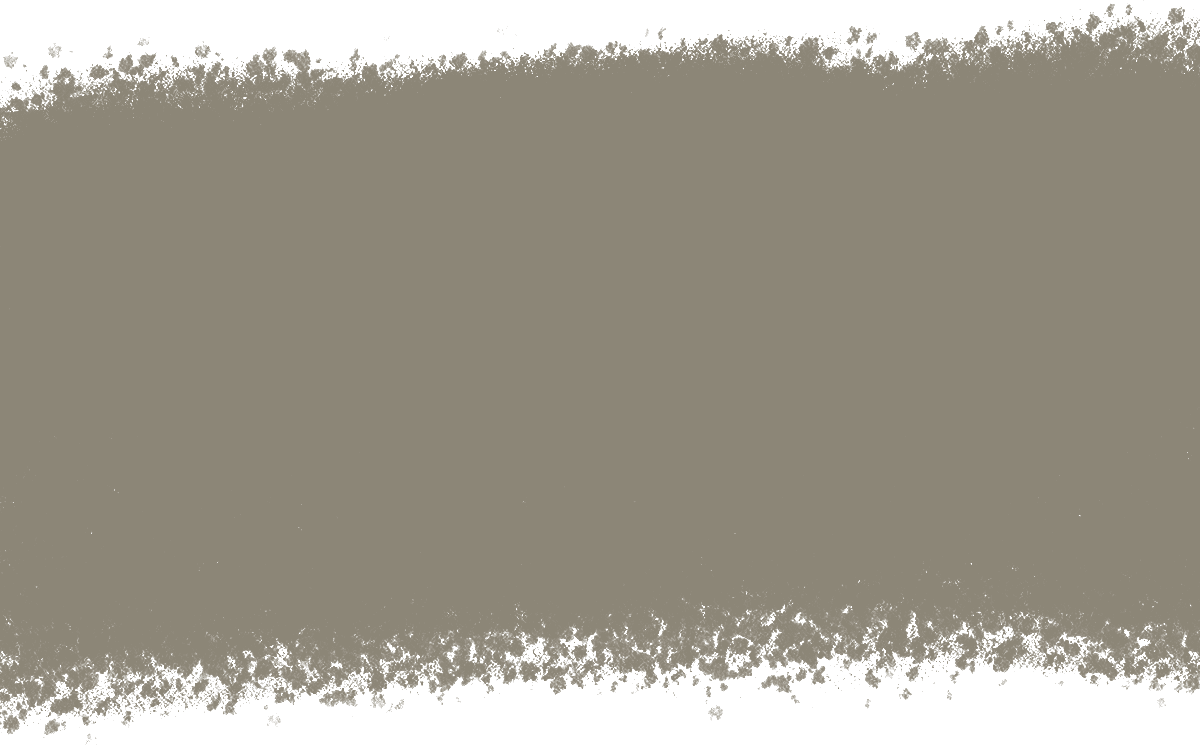 Workshops will resume in the Spring.
Let us know what you'd like to Learn! Click one of the below category to see a list of names and links to artists displaying their work at the VAULT
Stop in to see the wide variety of crafts and fine art by these imaginative artists.
Cards
Fiber Art
Fine Art
Glass
Jewelry
Maple Products
Metal
Mixed Media
Paper Art
Photography
Pottery
Wood & Stone
Allison Korn

Allison Korn

Jewelry inspired by nature
Andrew Berends

Andrew Berends

Andrew Berends has a been a potter since 1976. He received a B.F.A. from the New York State College of Ceramics at Alfred University. Upon graduating, he traveled through Spain, working with traditional folk potters. In 1986, he received an M.F.A. from Montana State University at Bozeman , then went on to be an artist in residence at Anderson ranch Art Center, Snowmass, Colorado. He now lives in Springfield, VT, where he extablished his studio in the woods. His work has been shown in galleries throughout the United States. Raku is a sixteenth century Japanese firing process originally intended to produce ceremonial tea ware. It involves firing a piece to 1850 degrees, pulling it out of the kiln with tongs, then placing it in combustibles such as straw or sawdust. A cover is placed over the glowing piece, forcing the fire to smolder and engulf it with smoke. This smoke changes the chemical composition of the galzes by creating a "reducing" enviroment. This "reduction" changes, copper glaze from green to metallic red, while turning any bare clay jet black. On non-metallic glazes, a crackle effect is created when a piece is pulled from the hot kiln into the cold air, causing the glaze to shiver and crackle. As smoke penetrates the piece it enters the tiny array of cracks turning them black. Because of the unique Raku process, no two pieces will be the same.
Andrew Weill

Andrew Weill

Brilliant with the intensity of molten jewels defines the work of Andrew Weill of Manchester, VT. His mouth-blown glass is created at his Manchester studio. "I blow glass simply because I love it." Weill started working with glass at 17. "Right from the start I learned a great lesson in humility. Glass is an amazing material; it can be hot and malleable and cold and delicate all at the same time. Needless to say it is a very humbling expereince to watch as your work hits the floor or cracks in the process of being made." After receiving a BFA in glass form Franklin Pierce College, Weill entered the world of production glass. In 1998, Weill was offered a job at a small shop in Sweden. "What a feeling to stand in a glass shop whose furnace has been roaring since before America was discovered." Much of Andrew's inspiration comes from Italian and Swedish Techniques. "I enjoy the heavy durability of Swedish glass and the bold colors and striping of Italian glass." Andrew's work incorporates all that he loves; bold colors, beauty and function, in other words, art that is easy to live with.
Aristides Nogueron Rivera
Aurora Davidson
Baked Beads

Baked Beads

As an artist for 30 years Sheryl's career as a salon owner, color specialist and stylist had given her the unique opportunity to express her creativity. For the past 7 years, She has been designing jewelry. She was chosen 1 of 50 out of 600 juried pieces of art for the 50th Chautauqua National Exhibition Of American Art in New York. Her crocheted pieces were displayed and viewed by over 70,000 people. Sheryl has also received 2 first place awards for her exceptional wire crocheted work. Her specialty is her crocheted pieces (the result of a long and arduous production process) and are nothing short of extraordinary. She has attended various beading classes, including lampworking, and a certification course in Precious Metal Clay.Sheryl also attends trade shows on a regular basis to find the finest materials available for use in her designs and to keep on the cutting edge of style. Her jewelry is carefully created with unique colors and detail to each piece. In her rural design studio in the hills of Westhampton, Massachusetts, Sheryl uses only the best sterling silver, fresh water pearls, Swarovski crystals, Swarovski pearls and semi-precious stones. The result are items of impeccable quality and taste.
Barb Riotte
Barbara Brill
Barbara Davis
Bascom Maple Farms

Bascom Maple Farms

Maple Candies and various sizes and grades of Maple Syrup
BeeHiveDesigns
Beth Ezold

Beth Ezold

Beth has been sewing since she was in 4-H Club. Most recently she has been making protective masks in different styles and fabrics as well as her coiled fabric pottery. You can even meet Beth if you come to Vault on Wednesdays when she works as Gallery Assistant.
Betsy Rogers
Bonnie Rihm, Red Barn Studio
Bradley Jackson
Bruce Iverson
Carole Sousa
Catherine Palmer
Cathy Tretler
Cherie Marshall

Cherie Marshall

Cherie's jewelry is crafted from kiln-formed glass. Her favorite technique is designing patterned bars of glass from which thin slices are cut and unique earrings and pendants are created.
Chris Gluck
Cindy Weed
Corky Bond
Dan Cassidy
Dan O'Donnell
Danforth Designs

Danforth Designs

Fred and Judi Danforth have revived a family tradition of pewtersmithing started by Fred's great great great great great grandfather. Well known Connecticut pewtersmith Thomas Danforth II, pioneered the craft of pewtermaking in the United States between 1755 and 1782. Among Thomas' six pewtering sons, the older ones apprenticed with their father and the younger ones to their older brothers. His daughter Sarah mothered and grandmothered pewtersmiths. Each specialized in several forms of holloware, such as plates, mugs, bowls, candlesticks, communion flagons, or teapots. They were industrious and inventive and enjoyed much demand for their work, as pewter was the American tableware of choice until the rise of imported chinaware in the mid-nineteenth century. Fred and Judi founded Danforth Pewterers and began designing their holloware line in Woodstock, Vermont in 1975. They moved to Lincoln, Vermont in 1978 and for ten years developed their pewter line in their mountain workshop. In 1988 the company moved to its current workshop in Middlebury, Vermont where Fred now designs and creates the holloware line while Judi focuses her energy on designs for the cast line. The Danforth name enjoys a unique recognition among both antique and contemporary pewter collectors. Thomas Danforth II was among the finest Revolutionary era pewtersmiths in New England. Since Fred and Judi revived the craft of pewtermaking in 1975, they have drawn inspiration from Fred's early pewtersmith ancestors to create a fine contemporary collection of Danforth pewter designs. Their line reflects the historical tradition for quality and craftsmanship
Darryl Storrs

Darryl Storrs

Daryl V. Storrs is a versatile artist. She creates hand-printed, hand-painted lithographic prints and jewelry, as well as unique pastel paintings. Her experience comes from working with other artists, including Middlebury College's David Bumbeck, and Sabra Field, a well-known Vermont woodcut artist. Daryl spent a six-week printmaking residency at The MacDowell Colony in Peterborough, NH, and holds a Masters in Printmaking from U-Mass Amherst. Daryl has had 25 years of printmaking experience, and has been creating landscape pastels for over15 years. In each medium her focus has been on color and sense of place, reflecting the multiple dimensions of nature and the Vermont landscape.
Dawn Blanchard

Dawn Blanchard

Mezzotints are similar to etchings and engravings. Fashioning a mezzotint is a hand-tooled method of creating an image from markings below and on the surface of a copper plate. The artist scrapes and burnishes the plate with various tools to make the image. "As a printmaker I spend a lot of time reversing images...this tendency guides the direction of each piece as well as the evolution of my work...each piece is a part of a continuum..." Biography Dawn Blanchard, who lives on a farm in New Hampshire, derives images and inspiration from a long-held love of the natural environment as well as the people and animals that share her life. After earning a BA in fine art and art history at SUNY/Potsdam, she held various jobs including four years with a manufacturer of museum reproductions, as well as assistant to a printmaker.
Deborah Holmes
DeskPets, LLC

DeskPets, LLC

Alissa and Jason Kenwood w

eld items not typically designed to be fused to something else to

create unique sculptures. Some are petite enough to fit on your desk. Others command a larger area.

Diana Rhodes
Dolores Kuhn
Donna Ellery
Doublebrook Books by Deborah Stuart

Doublebrook Books by Deborah Stuart

Deborah Stuart's Doublebrook Books are made largely from materials which are up cycled from numerous papers. They are hand-bound and stitched with linen, perle cotton or silk thread, some with ribbon, vintage button or cord closures. Each is unique, many including handmade, hand painted, eco-dyed or pulled-print papers. The sizes vary from tiny, which children and teens love, to 5 X 6. They are perfect for notes, special gifts and journaling.  They range from $6.00 to $20.
Elizabeth Clauson

Elizabeth Clauson

Delicate looking yet substantial in design. Crocheted necklaces with new and vintage beading.
Elizabeth Saslaw
Ellen Howard

Ellen Howard

Ellen Howard began sewing at age eight with the help of several 4-H volunteers in the small town of Oakham, Massachusetts. This is as close as Ellen came to any formal instruction. Sewing and fabric collecting soon became her passion. All through Ellen's youth she continued to develop her sewing skills and fabric collection—always as a hobby, never dreaming there would be a career in which she could employ her sewing and design skills. In the late seventies Ellen moved to Vermont attended college, tried a couple of jobs etc. For a brief time Ellen sewed for a local skiwear manufacturer, where she further developed her sewing skills. In the early eighties Ellen started her family all the while looking for opportunities to earn a living sewing and designing. Over the years Ellen has worked with several designers, artists and fine clothing boutiques. During this time Ellen has compiled an extensive collection of antique, vintage and new textiles. Ellen's family is now grown and are following their dreams, giving Ellen time to follow her own dream, sewing her own creations. Ellen uses vintage fashions and design techniques for inspiration. She has a wide selection of designs available, wearable and decorative. For men, silk ties and vests in silk brocades and velvets. For the ladies, special occasion dresses, jackets, simple outfits and accessories. Hats in colorful fabrics for the entire family. Quilts, throws and pillows in silks and velvets, some embellished with beads and silk ribbon work, as well as some made with antique kimonos. All items are exquisite and unique.
Emily McNamara

Emily McNamara

Emily researches, writes, and designs a new 12 month nutrition calendar each year.  These calendars usually arrive in early December and feature hand-drawn and painted artwork by Emily as well as a wealth of nutrition information.
Evelyn Towsley
Flappers and Floppers

Flappers and Floppers

Made by Peggy Roth
Gil Perry
Giovanna Lepore

Giovanna Lepore

Giovanna considers her sea glass mobiles "sculptures that move with color". As a girl, Giovanna studied art in Gardiner, Maine with Edna McGrail who was a student of Andrew Wyeth. Lepore attended Lake Erie College and the University of New Hampshire where she received a BA in studio art. She started working in sea glass about 7 years ago after meeting artist and illustrator Ashley Bryan. Giovanna also paints in oils, watercolors, does printmaking and sculpts. "When I design the mobiles, I look at the positive and negative shapes, forms and colors creating combinations to make a lively statement. Recently I started tying sea glass fragments using fish line and thicker transparent glass. My glass collection is an archeological endeavor most of which is found on coastal Maine. Friends in New Jersey and Florida add to my colorful sea glass treasures. The wood for the mobiles is salvaged from excursions on the Connecticut River. My art is made from 95% recycled materials.
Green Mountain Glass
Hank Schwartz of Hot Glass Coins
Janice Walrafen
Jenna May Konesko
Jeri Canfield

Jeri Canfield

Sewing a straight seam all started with 4-H club, but soon I found that I could purchase better clothes than I could make. I discovered quilt making in the 1970's and enjoyed it so much that it became my passion. My first quilt was our wedding quilt in 1974. It was a Goose in the Pond pattern done in the scrap fabric style. I use traditional quilt patterns as well as new modern abstract designs of my own creation to create my products. I do all the piecing on the sewing machine for strength in the seams. The quilts are hand tied and the edges are finished by hand for a look of quality. Creating beautiful products with all the gorgeous fabrics of today makes the hours in the studio worthwhile. In 1998 I joined Vermont Hand Crafters and started doing shows. This gives me direct customer input on the products which leads to design changes and additions that have enhanced the product line.
Jim Cunningham
Jo Robbins
JoAnne Russo

JoAnne Russo

JoAnne Russo of Saxtons River, VT has been making recycled mittens from sweaters for 15 years. She preshrinks the sweaters which makes the mittens extra warm. Her first pair was out of necessity because she is a runner and she needed something warm for her hands. They worked so well that she looked for more old wool sweaters and has been making them ever since.
Jodi Gintof, Beeswax Candles
John W. Scott
Jon Olsen

Jon Olsen

I have lived and worked in the four northern states of New England and have a great affinity for the varied landscape, flora and fauna of this area. I have a SA in Political Science, but pursued photography full time right out of school. I operated a photography gallery in Maine for many years. I've been involved in managing forest land in New Hampshire and I currently work from a studio in Norwich, Vermont where I live with my wife and three children. My recent work is all produced using a digital SLR system. I work in a RAW format which allows precise control over image qualities. I do all of the processing and printing in my studio on a digital editing and Ultrachrome inkjet printing system. The 100% cotton rag, heavyweight paper has the feel of watercolor paper and faithfully renders color and tonal values. The fine art paper, ink, 100% cotton rag mat and backing are all produced to archival standards.
Joseph Langton
Laura Montano
Laurie Marechaux
Len Emery

Len Emery

I come from an engineering background with all of its inflexibility and predefinition. Conversely, photography is often fleeting and very much undefined. I try to capture the image as it happens, the instant framed from my perspective for all to see and interpret. I try to use the environment as an element of the image, allowing it to enhance and sometimes be the image. I then try to draw the viewer into the image as I was drawn in when I first saw it. An attempt is made to keep the entire image in sharp focus and not let any of it escape the viewers notice. I am a pilot and use my flying skills and camera together when doing contract aerial photography. All of my photos are typically from Vermont and in particular the Black River basin area. I have a large selection of New York street photography and have spent many hours walking the streets and avenues of New York stalking that illusive 'perfect image'. I have a large darkroom here in Springfield, which will hopefully yield some of my better black and white works. Since digital photography as a medium is now gaining acceptance, I have assembled a fairly large up to date digital studio as well. I am currently a student at the New York Institute of Photography and should finish my studies in June of 2006. However, I have been carrying a camera off and on since Vietnam in 1969. Most of that photography has escaped my grasp over the years including a very extensive portfolio with negatives that was lost in the late eighties. I also consult from time to time for any company that needs a UNIX systems engineer since that is what my most recent endeavors are tied to. I have an extensive background in biomedical device engineering and have a number of patents in that field. I have worked for a number of the larger pharmaceutical companies in this country including Pfizer and Bayer as well as some of the premier aerospace companies. Most recently I consulted to Sikorsky Aircraft company on the Comanche helicopter project.
Lisa Murray
Lois Reynolds
Lynette Carsten
Madeliene Wright
Mags Bonham

Mags Bonham

Glass nail files
Mary Angus
Mary Azarian
Mary Lou Goulet

Mary Lou Goulet

Mary Lou learned to knit from her grandmother, now she knits puppets that her own granddaughter loves!
Melissa Post
Melody Reed
Miranda McNamara
Miya Cline

Miya Cline

Paper Cranes
Moore's Sugar House

Moore's Sugar House

Maple Syrup made by Ray and Linda Moore
Moore's Sugar House
Nancie Dunn
Nancy O'Connor
Neil Dominiecki
Nick Kekic

Nick Kekic

"Glass is a fascinating and compelling material to work with. When super hot it can be poured and cast in a fluid state, or blown and sculptured hot in a semi-molten state.When solid at room temperature it can be cut, faceted and polished to a fine brilliance. Tooled for thousands of years glass is the most precious when worked to capture this unique relationship with light. Glass, technically speaking, is neither a solid nor a liquid. It can be better described as a 'super cooled liquid' having no crystalline structure at all. hence it breaks randomly jagged and dangerously sharp. I try to think of glass as a liquid that's frozen to room temperature in a controlled and sometimes precarious balancing act of heat, gravity, timing and human intervention in these processes. The compelling and fascinating challenge for me now is trying to work with glass in such a way that concentrates on and expresses this fluidity as a material and its relationship with light. Many of my current designs are an effort to capture both this frozen gesture in form while also playing with the richness in color and light that glass generates. Most of my work is functional as I've often felt most satisfyied making things that are both beautiful and useful. But I'm trying not to limit myself to this aesthetic and have begun to develop some new sculptural ideas recently." Nicholas Kekic was given the rare gift of being born into a glass making family. His grandfather worked in an industrial glass making facility at General Electric for forty two years. This wealth of technical knowledge and years of expereince was gifted to Nick's father, Thomas Kekic, an artist, craftsman and teacherwho put it to use helping start the glass program at Rochester Institute of Technology in the early studio art glass movement in America. Growing up in this enviroment Nick was surrounded by hand-made objects and people who took care and effort in the creative process, people who found value in these things and the life of ideas and creativity they can generate. It is this tradition he believes that making and using these objects brings a richness to our lives that is both unique and precious. These objects have a great value not only in how they are appreciated but in the process of their creation as well. Nick has been working in glass on his own now with his wife, Tamasin Ballou, a potter and has most recently settled in Chester, Vermont where they built a home and studios. Nickolas Kekic's Glass has been shown in Galleries and private collections throughout the U.S.
Nina Briggs
Norma St. Germain
Philip Morgan
Richard Cofrancesco

Richard Cofrancesco

Richard started photographing during his first tour in Vietnam in 1967. After returning he studied at the Paier School of Art in Hamden, CT. He also studied with Jed Divine, known for his fine arts and commercial photography. Photographs, many of them panoramas are printed on archival paper or aluminum. "I am excited to find compositions where all elements come together to form images of beauty or questions to the viewer."
Richard Emery

Richard Emery

My name is Richard Emery, and I'm about as local as you can get. I was born in Springfield in 1954 and have lived in Weathersfield all my life. Whatever artistic ability I have apparently came from my mother's side, especially my grandfather who was a very good woodcarver. I took art classes in high school, but never had any formal painting lessons. Drawing and painting just come natural to me, like breathing. It's just something I do without really thinking about it. My father was a logger and after I graduated from Springfield High School in 1972, I went to work with him. He retired about 1980, and in '83 I started work at Green Mountain Log Homes in Chester. When the big log home boom hit, we got so busy that for a time I did very little painting. Green Mountain closed down in '92, but I still managed to do work for just about everybody else who had anything to do with log homes. Then I got into building log railings and log furniture. All this means I have about every type of woodworking machine and tool, very handy when it comes to making frames. In '97 or '98 I ended up being the caregiver for my mother until she went into a nursing home in 2005. I did very little painting during this time. Mom died in 2008 and in 2010 I decided to get back into painting again, using acrylics now.
Rick Hearn
Robert Burch

Robert Burch

Robert has been working in blown glass for over 20 years, while maintaining a broad production line he is Increasing his focus on one-of-a-kind and commission work. His glasswork consists of vases, perfume bottles, paperweights and sculptural pieces, with his current specialty being works that incorporate veiled silver glass with delicate bubble patterns. Since 1977 Robert's works have been shown in numerous shows across the country. Says Robert, "Most of my inspiration comes from my natural surroundings, and is further enhanced by the beauty of the glass in its molten state. I am fortunate to have found work that I love and that allows me to be creative." "I don't know if I chose glass, or it chose me," Robert Burch muses. The two met dramatically in the late 1960's when glassblowing was still new as a re-emerging craft. While visiting at Penland School of Arts and Crafts, Burch ventured out for an evening walk in the surrounding North Carolina woods. "I came upon a little cabin with a roar coming out of it and a strange glow in its windows," he almost whispers, remembering. "I looked in the door, and there was this guy blowing glass. I was stunned! The magic, the sensuality, the energy of that moving, molten glass! From that moment on, my purpose was to get as close to glass as I could." And so he has. A chance opportunity to simultaneously learn and teach glassblowing at Goddard College led the former production potter from clay to glass. By 1978, Burch had moved his first glassblowing studio in Plainfield, Vermont to its current home in a 200-year-old Putney barn. Brandywine Glassworks now supplies over 200 shops and galleries nationwide with exquisite vases, perfume bottles, paperweights, and sculptures, each handblown by Burch. Macy's, Bloomingdale's, and Neiman-Marcus have been among his clients. Watching Burch in action explains his conscious choice not to further expand his thriving business. Clearly it's a venture or perhaps a dance in which Burch and glass are the closest of partners. His every muscle keeps pace with the fiery substance he cajoles into shape. A twist here, a light touch there, a breath, a moment's rest. A master is at work here, following the lead offered by glass heated to over 2,000 degrees. Occasionally, the roles are reversed. "Sometimes I feel like a tool the glass is using," he exclaims between precise puffs on his long pipe. So intimate is his relationship with each piece, that Burch claims he can easily identify his work from years past. In his first five years as a professional, he produced over 10,000 items. "If you lose contact with the glass, you lose your potential for creative growth," he adds emphatically. This is not the voice of a potential paperpusher. To separate Burch from glass and the process he so obviously loves would be a tragedy. In this case, small is indeed very beautiful.
Robert Carston
Robert O'Brien

Robert O'Brien

"I have been painting in the watercolor medium for over forty years. One of my main objectives in watercolor painting is to create light through the use of shadow. In painting ordinary images, I find a fascinating interplay between the two. The transparency of the medium helps in bringing shadows alive while allowing the light to glow." My recent paintings have emphasized close focus features of a particular subject giving the piece an almost abstract quality, with great attention placed on composition and value. I've also been exploring portraiture and figurative works. One of my objectives is to transform mundane, everyday scenes into beautiful works of art. I am a Signature member of the American and National Watercolor Societies as well as several others including the New England Watercolor Society. I have studied with noted watercolorists including James Whatford, Tony Couch and Marshall Joyce NA AWS. I have recently won the Honor Award at the Academic Association's 64th Annual Exhibit, the Silver Medal at the 2014 New England Watercolor Society's Juried Members Exhibition in Boston. I was accepted into the 147th International Exhibition of the American Watercolor Society, to be held in April at the Salmagundi Club. My work was featured in the December 2011 / February 2012 issue of l'Art de Aquarelle and in the upcoming Splash 15, the Best of Watercolor. I teach workshops throughout the United States and abroad.
Robin Perrault
Robin Stronk

Robin Stronk

Stronk is a 1975 graduate of the N.Y. State College of Veterinary Medicine at Cornell. Her practice career has run the full gamut from large to mixed to small animal settings. In addition she did a stint teaching veterinary technicians at Quinnipiac University and worked as a track veterinarian at Hinsdale Greyhound Park. During a veterinary career that extends over thirty years, she has always had a deep need to study and produce artwork. Through classes at the River Gallery School in Brattleboro, VT, she has refined her technique and focus resulting in gallery representation. Robin has had the honor of having her work ("Feather" 3/15/97 and "The Dispute" 2/15/00) featured as cover art for the Journal of the American Veterinary Medical Association. "Eyes on the Future", a commission for the Veterinary Scholarship Trust of New England, was her third cover on Oct. 1, 2008. In addition, she has received Judges Awards at the International Exhibition on Animals in Art at the Louisiana State Veterinary College in 2003 and 2006 for "Dakota" and "Lay or Bust." Robin lives in Southern New Hampshire with her husband where they have raised their three children. Robin and John were the sole owners of Windham Veterinary Clinic in Brattleboro, VT for 23 years. She now concentrates her time on her art, writing, and frolicking with cats as much as possible.
Ron Cravens

Ron Cravens

As a long standing juried member of the nationally recognized League of New Hampshire Craftsmen, customers have come to rely on Ron Cravens for both fine quality handcrafted jewelry as well as good customer service. From One of a Kind fine art jewelry to designs that can be repeated, each piece of jewelry is considered unique as each is individually handcrafted right here in our studio. For this reason we can assure our customers the quality they expect. Clientele includes collectors seeking unusual One of a Kind fine art jewelry as well as shoppers interested in repeatable designs for coordinating ensembles, personal gift giving, Corporate Gifts and Bridal Wear.
Ross Meyer
Sarah Machtey
Sherry Trombley
Sheryl Blais

Sheryl Blais

Christmas tree earrings!
Simi Berman
Skunk Hollow Studios/Russ Fellows

Skunk Hollow Studios/Russ Fellows

A native of Springfield and great-grandson of the founder of the Fellows Gear Shaper Company, Edwin R. Fellows, I am a fourth-generation Vermonter and woodworker. I attended the Springfield Public Schools through grade nine, then finished my high-schooling at Vermont Academy in Saxtons River. I graduated from Middlebury College in 1968. Settling in northern Vermont after graduation, my professional career evolved through many years and phases, but all my endeavors have involved building or restoration, and all those had something to do with wood! From restoring the old farmhouse in which I lived, to building homes for others, to crafting furniture and making woodenware, I have never lost my love of or focus on woodworking. Except for an occasional commission, I now exclusively make lathe pieces such as bowls, platters, vessels and sculptural pieces, which I sell in galleries in Vermont and New Hampshire. I am past president and director of Vermont's largest woodturning club and a current director of Vermont WoodNet, an association of individual and corporate wood workers and producers. I live with my partner of 32 years in an earth-sheltered solar home in Jericho, VT that we designed and built ourselves.
Sue Carey

Sue Carey

I am a fiber artist and shepherd, two passions that integrate extremely well. My sheep provide raw material for my artistic creations, but raising sheep also allows me to spend many hours viewing the natural world. Each season brings its own shepherding chores and the chance to use my sheep's wool to recreate some of the birds and animals living around my pastures. Our logo was designed by my family's good friend, Sue Thomas of Rutland, Vermont. We have a very active life style. Besides my sheep and art work, I have two jobs. My daughter Mara helps with the sheep, but she lives in a city 15 miles away and also holds two jobs. My husband, Rob, works full-time and is active in Boy Scouts. The juggling sheep represents our life style and our attempts to juggle all of our responsibilities. Sheep create the ultimate eco-friendly sustainable products. They eat low maintenance material (grass and hay) and convert it into fabulous fleece that can be felted, knitted, crocheted or woven into natural clothing, blankets, and ornaments. Sheep also specialize in preserving their own ecosystem – pastures. A small flock of sheep consumes and fertilizes at the same time. This method of lawn maintenance leaves only one mowing a year to control invasive pest species of plants that sheep refuse to eat. At Marble Meadows, we practice rotational grazing. Our sheep conserve about 12 acres of pasture. We use portable flexinet fence to keep them in a small area. After they eat down one area, the fence and sheep are moved to another area and so on until all of the pasture has been covered. After they finish with the final section, the first sections have regrown so the sheep are moved back to start over again. This method keeps the pasture and the sheep healthy. As a by-product of this practice, we also create habitat for grassland and ground nesting birds. Birds will even perch on the backs of sheep to gain a higher elevation so they can watch out for predators. One of my personal joys is walking in the pasture and observing wildflowers. Coltsfoot, columbine, blue irises, morning glories and a diverse color array of lilies rival any flower garden. My sheep create their own paradise.
Sue Rubel
Susan Rosano
T.Breeze Verdant

T.Breeze Verdant

T. Breeze VerDant claims to hold a master's degree from the prestigious University of Hard Knocks. He started his woodworking experience by building a log cabin from his own trees and rocks, hauling the logs by hand with a "come-along". He consequently demolished buildings for building materials and built another home entirely from lumber he harvested selectively from a friend's forest (thereby saving it from being clear-cut). Expressing ones self through house building is a tedious method of expression. It also consumes a lot of trees, which "Breeze" has an affinity for. "My mother knew where to find me at dinner time, she'd stick her head out of the door of the kitchen and yell…. upwards!". Breeze has run power lines, studied and practiced massage and the healing arts; He is a singer/songwriter/guitarist/poet and an activist for peace and the environment. Breezes aim with wood is to create and share the greatest amount of beauty while consuming the smallest amount of wood. Breeze has been practicing marquetry full time since 1988. A large amount of wood used in these jewelry pieces is from scraps and recycled pieces. ALL of the solid exotic pieces are from the same. The veneers used are approx. 1/50" thick; they're sliced which means that there is no waste. One board 12" wide by 1"thick by 10' long would expand out to cover an area 10' by 50'. Breeze has been featured in the following Books:

The Art of Making Elegant Jewelry Boxes by Tony Lydgate
The Art of Making Wooden Jewelry by Tony Lydgate (COVER)
Fine Decorative Boxes by Andrew Crawford
Simple Marquetry by Mike Burton

The Village Potter

The Village Potter

Bronna Zlochiver is The Village Potter.
Tiffany Soukup
Tim Campbell

Tim Campbell

Born and raised in the town in which I now live, Keene, New Hampshire. I am a self taught artist who has been painting since childhood. My love of antiques and primitives stems from growing up surrounded by them. I am owned by my Jack Russell Terrier, Otis Campbell, named after the character on the Andy Griffith Show. My work is in galleries throughout New England & Cape Cod and also in Atlanta, San Francisco & NYC. My sculptures are "upcycled" works of art which are created from recycled wood and metal.
Truddi Greene

Truddi Greene

Artist Statement - Quilting is a blissful journey, and every destination reached catapults me onto a new road with endless miles left to travel. Quilting has become my passion, taking inspriration from the saturated colors I've seen in my tavels through Mexico, Central American and Italy. My fascination with sewing began at nine years old and hasn't let up since I got my first Singer featherweight machine in 1964. I'm from a mid-western family who were makers of useful, practical things: from dresses to donutes, pickles to pies, everything was made at home by nonchalantly expert hands. Kansas quilt makers were common, but my grandfather distinguished himself by sewing and gifting 36 quilts as a retired farmer. I was allowed to use my favorite antique quilts on overnight stays with my grandma and eventually inherited two of those beauties. The idea of making a quilt was always a dormant seed in my mind while raising four children and working as a teacher. The satisfaction of completing my first quilt in 2002 as a 20th anniversary gift to my husband was a major turning point for me; after a lifetime of stitching clothes, my focus turned to color theory and traditional quilt design. My first quilts were safe projects with batik fabrics and tradtitional patterns, but I got over that in a hurry when I discovered a fabric designer named Kaffe Fassett. (Kaffe Fassett is one of the most influential living textile artists and the best selling author of knitting, mosaic and patchwork title. Kaffe perceives all his work in the same way - as the opportunity to play with colors and patterns). His bold, huge prints in wild and sassy colors led me to a new way of thinking about my work, and I'm immersed now in seeing what I can come up with, experimenting with new techniques and designing some of my own quilts. I'm transforming a family tradition as I experiment with international fabrics and reach for new unique images in my small Chester, Vermont studio.
Vermont Bee Balm
Vermont Bentwood
Vermont Stoneworks
Wander On Words

Wander On Words

Colleen Wilcox of Wander on Words, creates hand-lettered designs out of words and transforms them into towels, stickers, cards, and more. Her mission is to spread positivity, inspire others, and rekindle a love for nature. When expanding her business to include products other than stationery, Colleen wanted to collaborate with other small businesses within the states. She found a company called Canvastry based in Nashville, Tennesee that prints on dish towels. They are a family with years of experience in customized printing, and they are committed to providing the creative community with the finest quality prints and products. They use water-based inks that do not peel off with time or use and print on 100% natural cotton, hand-hemmed towels.
Whisper Hill Soap

Whisper Hill Soap

Whisper Hill is a Vermont-made line of bath and body products containing mostly natural ingredients. What sets us apart from most other bath and body lines is our commitment to both quality and esthetics. We strive to produce our products as free from synthetic ingredients as possible. All our soaps, bath salts and body scrubs are made with NO CHEMICAL PRESERVATIVES and most of our products are scented with natural essential oils. The absence of chemicals and synthetics makes our products more gentle and nourishing for the skin and the whole body. With the presence of high quality natural ingredients such as olive oil, goat's milk, aloe vera oil, castor oil, shea butter and other nourishing components, we utilize what nature has to offer, making our products not only better for you and the environment, but luxurious as well. At Whisper Hill we try to package our products in a way that is eco-friendly, impacting the earth as minimally as possible, without sacrificing quality. In short we are committed to helping make the world a better place to live. Here's to your health, wellbeing and comfort!
Woodfield Press
Woodfield Press
Zachary Grace
Find Unique Creations of VAULT Artists
 We are proud to offer only original, juried, handcrafted local and regional artwork. Browse our wide variety of gifts online and also stop in the Gallery.  Open Wednesday 11-5, Thursday11-5, Friday 11-7, & Saturday 11-5.
Browse items below or search by category
The State of Vermont has recognized the contributions to the economy and culture of the state by honoring VAULT with official designation as a Vermont State Craft Center.